Ingrid allows merchants to create custom CSV reports that summarize their orders and include a lot of useful data such as purchase country, order value, shipping methods, etc.
Generating the CSV report is possible by using the Ingrid Merchant Platform. In order to create it please follow the below steps.
1) Open the Transport Order Section in the Ingrid Merchant Platform
2) Please apply the data range and source by pressing the filter button:

3) When the desired orders are already displayed, press the Export to CSV button (above filter icon)
4) Ingrid Merchant Platform will notify you about the progress. Once the report is ready, you will be able to download it after pressing the note and stamp icon in the upper right corner.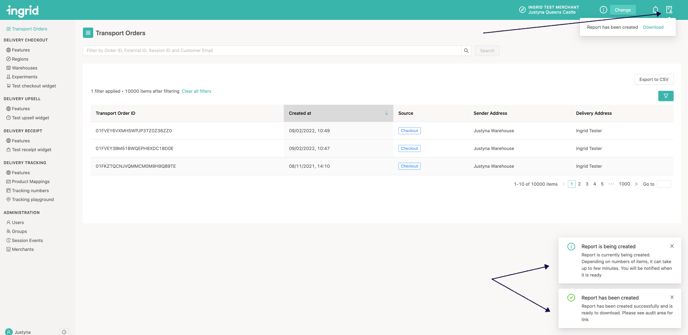 5) Press the Download button.