The Free Delivery Indicator is a valuable tool that communicates free shipping eligibility to consumers based on their total cart value, while also encouraging merchants to drive upselling.
The Free Delivery Indicator serves as a transparent guide, informing end consumers about the specific cart value they need to achieve to unlock free shipping. This clarity encourages higher order values in the cart where merchants can also benefit from by leveraging the shipping threshold as an upselling tool.

This feature works in conjunction with Ingrid's Price Rules, allowing merchants for configurable discount levels on deliveries. Currently, the Free Delivery Indicator supports the "Total Cart Value" price rule. This rule enables merchants to set shipping discounts based on the total value of items in the cart.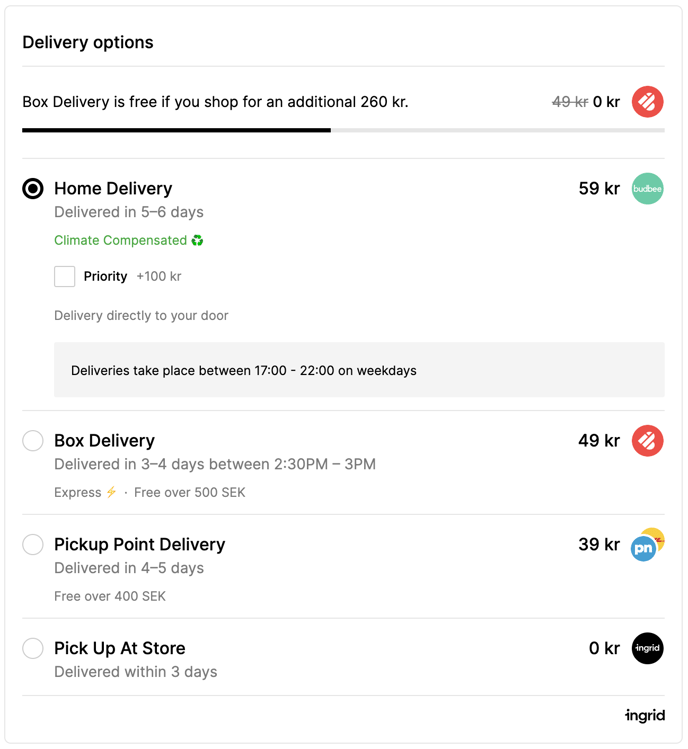 Note: If you would like to know more about how to enable the Free Delivery Indicator, please check this article that we have in our knowledge base.
These two operators allow merchants to precisely control the thresholds.
Bigger than (>)
Bigger and equal to (>=)
In cases where two Carrier Products have identical price rule sets, the Sort Order ranking on a delivery category takes precedence.