The onboarding journey is fun and easy! There are 4 main checkpoints to pass to get Ingrid Delivery Checkout up and running: Scoping, Configuration & Customisation, Integration and Testing.
Delivery Checkout integration flow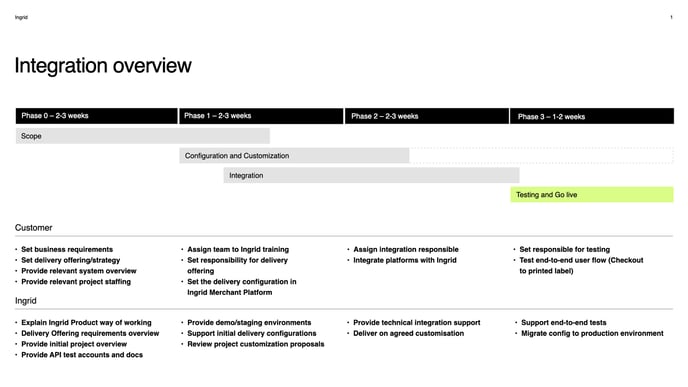 Scoping
During the scoping Ingrid collects and analyse all the requirements, expectations from a Merchant which will be used in setting up the delivery experience. At this phase a Merchant has enough information to detail how the delivery experience in the checkout should be like. It includes the initial checkout flow, delivery offerings and carrier services to be used.
Learn more
Configuration & Customisation
In this step the Delivery Checkout is being setup. Ingrid supports a Merchant with an initial Delivery Checkout configurations, trainings and demos to Ingrid Merchant Platform. At the end of the phase a Merchant has enough knowledge to continue the setup and self-sufficiently be able to admin the configurations later on.
Learn more
Integration
Integration is a crucial point to ensure Ingrid is working correctly in a Merchant's ecosystem, depending on the products they will be using. At this point Ingrid and Merchant's E-com, ERP, WMS and TMS plan and agree upon the data flow between the systems.
Learn more
Testing & Go Live
Before any GO LIVE it's a Merchant who is responsible for the end-to-end testing (from the Checkout to a printed label). Ingrid supports a Merchant on this last mile and assists in the situations when something goes not according to the plan. At this phase the setup of Delivery Checkout is finalised on the staging environment, and Ingrid helps to migrate the staging configuration to the production site.
Learn more
Time
The onboarding process to the Delivery Checkout takes on average 8-10 weeks. But with the right eagerness and enthusiasm you can launch it much faster 😉
Got any question? Our dedicated Customer Success team will be glad to support you.
Our Customer Success Agent will reach out to you on the initial step of the Onboarding journey. Make sure to keep a contact with your Customer Success Agent and address all the questions on time. This person will assist you during the onboarding and be your guide from the Scoping to the final launch of Ingrid Checkout.
​